DORI'S RECOMMENDED READING LIST
~ Wisdom on how to show up consistently and powerfully no matter what life brings ~
Each book listed below has application in both the work place and in the home, in all parts of life.

Over the years, and on many occasions, I've been in conversations that end in the exclamation, "Who's having these conversations? I want to have more of these kinds of conversations!" Whether casual and informal or formal and purposeful, meaningful conversations matter. They connect us to one another, to ourselves and to the mysteries of life, to that which wants to be known and is bigger than any of us alone. They poke us to wake up and pay closer attention to the people and circumstances of our lives. They ask us to have an opinion, take a stand, expand and explore who we are and what we believe in.

Everything I do, personally and professionally, has at its heart a fierce, fun, sometimes hard and usually meaningful conversation, whether that's with myself, God/Source/Creator, my husband, sons, family members, friends and/or clients.

I believe in my heart that the conversation is the relationship. Whether done silently and through gestures, touch, a glance, a compassionate listening presence or through words - shouted, spoken or sung - the conversation is the bridge to meaning making, intimacy and deeper connections, an invitation to see and be seen, a nod to our individual and collective natures, and a gentle nudge to turn toward our interior lives and yearnings.

The books I've chosen to list here are among my many favorites. Their authors are as committed as I am to encouraging meaningful conversations and relationships. I have organized them into categories that have meaning for me – my guiding principles for life. May they stir something awake inside of you. May they encourage greater connection, consciousness and curiosity. For some of you, they will stimulate a desire for inquiry and depth work that needs company, an external witness or coach/mentor relationship to further nurture and nourish your soul. Trust your impulses and seek that out if you are so guided.

I invite you to let your relationship with these books (and the other resources offered here) point you to your true self, your interior life, inner yearnings and growth edges… and I encourage you to follow their lead, like a trail of breadcrumbs home to yourself, whether this makes literal sense or not. Trust your intuition, your heart and your body… give your rational mind a rest. Perhaps, for some of you, the true next phase of your life's journey and transformation will begin right here, inside a conversation stimulated by a book and the hearts, minds and perspectives of the beautiful people who authored and gifted them to us.

May you find the courage to explore and enjoy many of "these kinds of conversations," the kind that can help you to feel aligned and alive inside and out, and that encourage each of us to know, like, love and trust ourselves and one another. Use these books as an invitation to gather, share and grow together, as a leaping off point into the rest of your beautiful life.
Library
---
---
Dori's Guiding Principle #1: Put Relationships First – beginning with the one with yourself, the Divine within and around you, and others (aka, The Conversation is the Relationship – Know Thyself)
---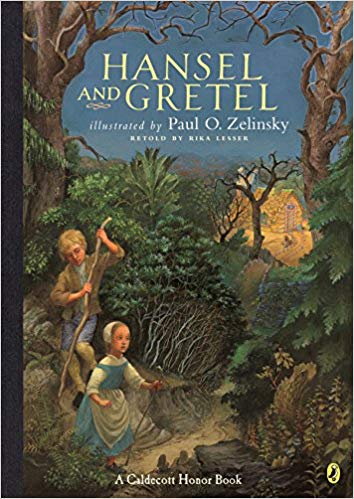 ---
Hansel & Gretel, by The Brothers Grimm

A story set in medieval Germany about the plight of two children who, betrayed by their parents, fall prey to a wicked witch. It is a coming of age story about lost innocence, growing up, family life, marriage, greed and choice – will we wake up, grow up, tap into our inner and outer resources and become resilient or will we stay young and asleep and risk becoming the victim, over and over again? It is about the journey from childhood to adulthood, rites of passage, wins and losses, and lessons learned from the real and imaginal realms.
The  Complete Enneagram: 27 Paths to Greater Self-Knowledge, by Beatrice Chestnut
The Enneagram, a universal symbol of human purpose and possibility, is an excellent tool for doing the hardest part of consciousness work: realizing, owning, and accepting your strengths and weaknesses. Chestnut traces the development of the personality as it relates to the nine types of the Enneagram, the three different subtype forms each can take, and the path each of us can take toward liberation  and more authentic self-expression. Here you will learn to observe yourself, face your fears and disowned Shadow aspects, and work to manifest your highest potential.
---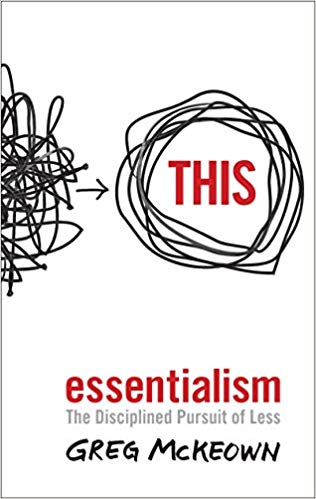 Essentialism: The Disciplined Pursuit of Less, by Greg McKeown
The core of essentialism as a concept focuses on the idea that any particular entity requires certain elements for its functioning and existence. These are the essential traits which make an entity what it is. Essentialism is a book which deals with situations wherein people would find themselves in the middle of an information explosion. They could also feel occupied with a lot of work, but still be unproductive. There are times when people follow the notion that they have to do everything, but on the contrary, they end up doing nothing. There is no specific direction to their tasks and neither to their goals. Essentialism as a concept narrows down this notion into doing the right things which are absolutely necessary, in a right manner and at the right time.
---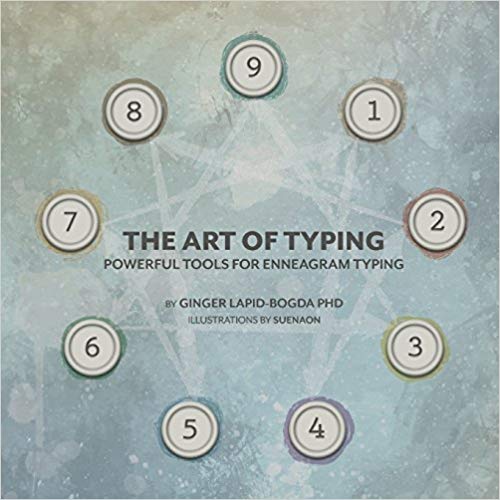 Essentialism: The Art of Typing: Powerful Tools for Enneagram Typing, by Ginger Lapid-Bogda
Demystify the Enneagram typing process with "The Art of Typing." Unlike any other Enneagram book, it contains illuminating illustrations, targeted differentiating questions, color infographics of the 9 Ego structures and more. See what type 4 and 7 do at the park or how type 3 and 6 navigate a maze. A book for those who help others find their type.
---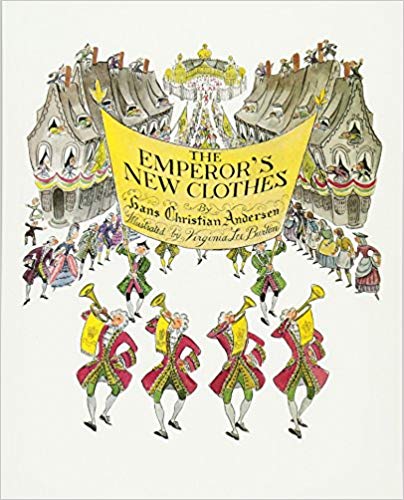 ---
The Emperor's New Clothes, by Hans Christian Andersen (published in 1837)
A timeless story about the negative and ridiculous effects of pride and greed. What happens when pride gets in the way of speaking up when we (all) know the truth?
The Power of Now: A Guide to Spiritual Enlightenment, by Eckhart Tolle
Takes us on a spiritual journey to find our truest and deepest self, to regain awareness of Being, liberated from Mind and intensely in the Now…Enlightenment. Awakens us to our role as the creator of our own pain and shows us how to have a pain-free identity by living fully in the present.
---
---
Burnout: The Secret to Unlocking the Stress Cycle, by Emily Nagoski PhD & Amelia Nagoski DMA
This groundbreaking book explains why women experience burnout differently than men—and provides a simple, science-based plan to help women minimize stress, manage emotions, and live a more joyful life.
Dori's Guiding Principle #5: Create A Purposeful Life (Career, Health, Relationships, Spirituality) – make space to know and honor that which wants to live and be expressed through you (aka, Ask, To What is My Life Consecrated? - Align With & Integrate This Awareness)
Belonging: Remembering Ourselves Home, by Toko-pa Turner Bridges
Feel like you don't belong? You're not alone.The world has never been more connected, yet people are lonelier than ever. Whether we feel unworthy, alienated, or anxious about our place in the world -- the absence of belonging is the great silent wound of our times.
Most people think of belonging as a mythical place, and they spend a lifetime searching for it in vain. But what if belonging isn't a place at all? What if it's a skill that has been lost or forgotten?
With her signature depth and eloquence, Toko-pa maps a path to Belonging from the inside out. Drawing on myth, stories and dreams, she takes us into the origins of our estrangement, reframing exile as a necessary initiation into authenticity. Then she shares the competencies of belonging: a set of ancestral practices to heal our wounds and restore true belonging to our lives and to the world.
---
Transitions: Making Sense of Life's Changes, by William Bridges
Whether you choose it or it is thrust upon you, change brings both opportunities and turmoil. Bridges provides an elegant and simple roadmap for the transition process in both the personal and professional domains. He highlights three stages of transition: The Ending, The Neutral Zone, and The Beginning. Each needs to be understood and embraced in order to achieve meaningful and productive movement into a hopeful future. It is an essential guide for coping with change.
---
Help Them Grow or Watch Them Go: Career Conversations Employees Want, by Beverly Kaye & Julie Winkle Giulioni
This employee development classic includes advice on engagement and retention in today's more flexible employment environment. It also includes ideas on creating a career development culture in your organization. It addresses the plethora of studies that confirm that career development is the single most powerful tool managers have for driving retention, engagement, productivity, and results. In response to managers' claims that they don't have time for this, the authors offer a better way, to conduct frequent, short conversations with employees about themselves, their goals, and the  business, converations that can be integrated seamlessly into the normal course of business.
Waking Up in Winter: In Search of What Really Matters at Midlife, by Cheryl Richardson
One woman's guide to finding renewed contentment and purpose through a heroic inward journey, a priority for anyone in midlife. This is a wonderful guide for listening to the whispers within, those first, gentle nudges of change to move toward a thoughtfully reimagined life – a soulful spring awakening.
---
---
Good and Mad: The Revolutionary Power of Women's Anger, by Rebecca Taister
Highlighting a double standard perpetuated against women by all sexes, and its disastrous, stultifying effect, Good and Mad offers a glimpse into the galvanizing force of women's collective anger, which, when harnessed, can change history.
Conscious Business: How To Build Value Through Values, by Fred Kofman
Conscious business, in this case, means finding your passion and expressing your essential values through your work. Conscious business is about unconditional responsibility and becoming the main character of your life. A conscious business fosters personal fulfillment in the individuals, mutual respect in the community, and success in the organization.
---
Dare to Lead: Brave Work. Tough Conversations. Whole Hearts., by Brené Brown, Ph.D., LMSW
Shows leaders, change makers and culture shifters how to put the ideas in daring greatly, rising strong and braving the wilderness into practice so we can step up and lead from wherever we are sitting. Defines a leader as not about title, status and wielding power; rather, as anyone who takes responsibility for recognizing the potential in people and ideas, and has the courage to develop that potential.
The Shadow King: The Invisible Force That Holds Women Back, by Sidra Stone
Women's power, sexuality, relationship roles, and emotions - all are unconsciously influenced by a compelling inner voice echoing thousands of years of patriarchal beliefs. The Shadow King reveals this voice and examines its power. It shows how to transform this Inner Patriarch from an unseen enemy to a powerful ally, enabling each woman to claim her full, and unique, feminine power.
---
More Coaching & the Enneagram
---
Coaching Development & Resources
---
Movies
Sources of Inspiration for the Leader In Each of Us...
---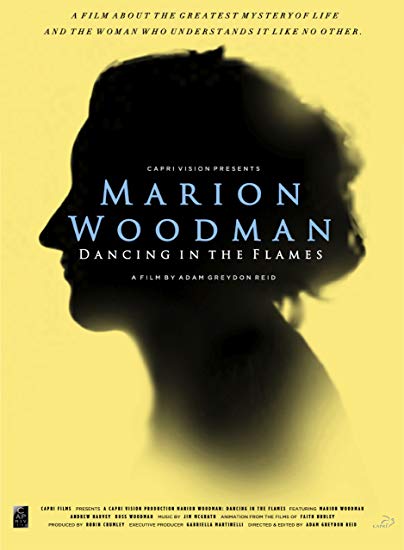 This documentary provides a close up look at the life of renowned Jungian Analyst and author, Marion Woodman. Woodman shares the mysteries of her own soul's journey and reveals a series of psychological "Deaths" and "Rebirths" that made her one of the wisest and authentic women of the twentieth century. She weaves her inner and outer lives together and transmits the core truth of what it is to be human." Woodman's account, coupled with Andrew Harveys observations, provides a roadmap for those of us interested in the underlying archetypal message about living, dying, and transformation. It is a source of inspiration for anyone who wants to more consciously embrace the personal, individual and collective challenges to transform, which will always be there if we have the courage to look.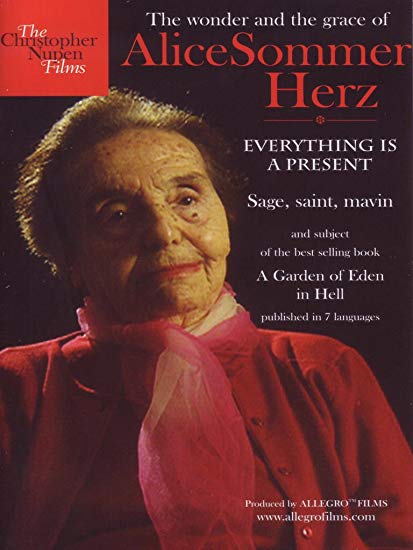 This documentary offers some insights, through the inspirational life story of Alice Herz-Sommer, the oldest living Holocaust survivor, about "How music provided hope in one of the world's darkest times." It invites us to discover and access whatever it is that provides hope in our own lives during both the best and worst of times.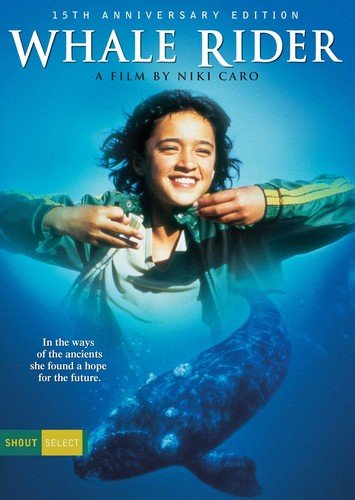 A small Maori village faces a crisis when the heir to the leadership of the Ngati Konohi dies at birth and is survived only by his twin sister, Pai. Although disregarded by her grandfather and shunned by the people of her village, twelve-year-old Pai remains certain of her calling and trains herself in the ways and customs of her people. With remarkable grace and courage, Pai summons the strength to both challenge and embrace a thousand years of tradition in order to fulfill her destiny." Whale Rider highlights what happens when we know ourselves at the core of our being but don't know how to connect this knowing to the people and what's happening in the world around us. It offers us a blueprint for staying true to ourselves and staying the course, despite the inherent difficulties in our respective journeys.
1. Public Speaking — Join Toastmasters International and have fun practicing and mastering the art of effective speaking, communication and articulation!
2. Personal Growth, Professional Development, Spiritual Evolution — Hire a coach, create an accountability partnership and/or join a sacred circle (personal and/or professional) to help you to grow and make the changes you envision for your life, personally and professionally.
3. Become the Role Model You Always Wanted — Find a mentor and ask to be in this partnership for at least six months or, ideally, one year. Define your shared intentions, how you will both be served by the partnership, and the actions, agreements and accountability processes you intend to follow.
4. Healing, Recovery, Crisis Management
a) National Suicide Prevention Lifeline – Call 1-800-273-TALK (8255)
b) National Substance Use and Disorder Issues Referral and Treatment Hotline – Call 1-800-662-HELP (4357)
c) Support Groups such as Alcoholics Anonymous – aa.org
d) Therapy / Analysis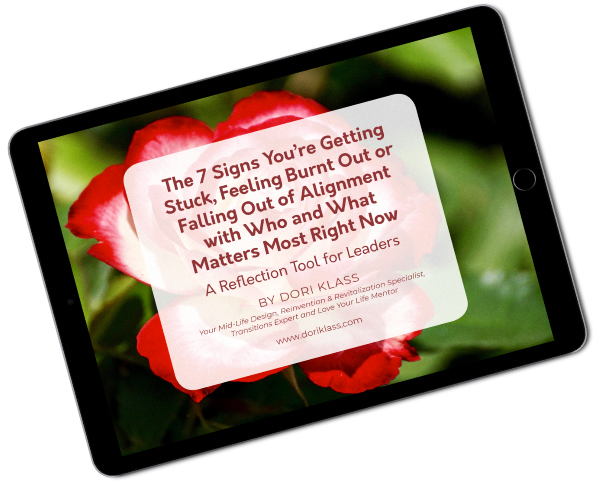 Are you feeling stuck, flat, fragmented and disconnected?
Have you built the life, career and relationships you always wanted and yet you're feeling restless and uninspired? Download this guide: a safe, simple way to explore what's actually bothering you and what may be at the core of feeling disconnected from who and what matters most to you now.
---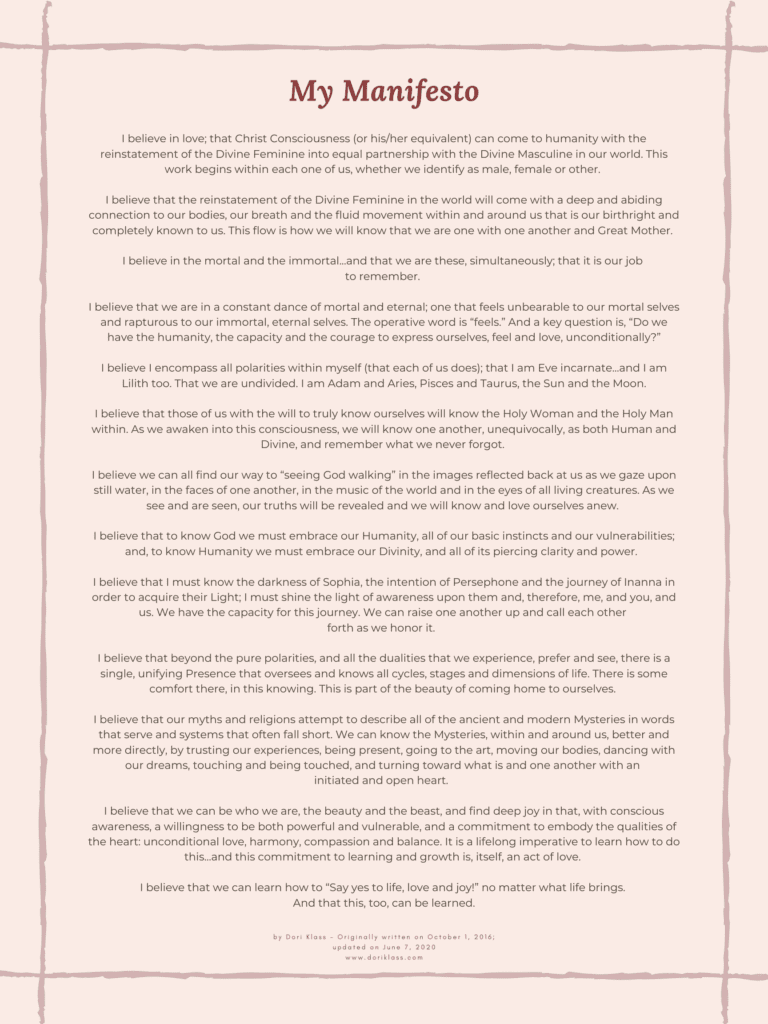 ---
---
Download a PDF copy of my Manifesto.
Please enjoy my Manifesto. I offer it to you with best wishes for a beautiful life and fulfilling journey, no matter what life brings.