After a friend had to cancel her visit to me for the first week of July, I felt a tug to "fill in the time" with a new plan. I noticed a bit of FOMO (Fear Of Missing Out) popping up as everyone I knew seemed to be going somewhere special for the holiday week and to kick off their summers.
Catching myself in this FOMO mindset was useful. Instead, with my husband, I paused to reflect on this and ask, "What do I/we really want right now?" Notice I didn't say, "What do I/we really want to do right now?"
The answer came in a flash.
Slow down. Be spacious. Enjoy the moments, with each other, our home, our dog, our local world. Keep it simple. Practice being still, sensing and listening.
WAKE UP SLOWLY.
Can you feel the exhale?
And that's how our staycation began, with full permission to do a little, a lot or nothing. Permission to work and play at a more leisurely, uncluttered and spacious pace. Fast forward 28 days and it is clear that I have benefitted from this decision, for the whole month of July.
THE SPARK
Earlier in the month, a local friend called and we gathered for a long afternoon and evening. Over a leisurely lunch, an organic mash-up of creative projects and wine, we deepened our friendship and mindfully imagined our "What's next?"
She began mapping out her dream for creating a community gathering place or retreat center and I began capturing images for a vision board, something visual to guide me for the second half of 2022 and beyond. I didn't have a theme so I waited for the images to tell me what it was about.
And a theme emerged: "Not Just a Pretty Face!"
Hmmm…it appeared that this board was about women, empowerment and agency…about belonging to ourselves and one another and standing for something!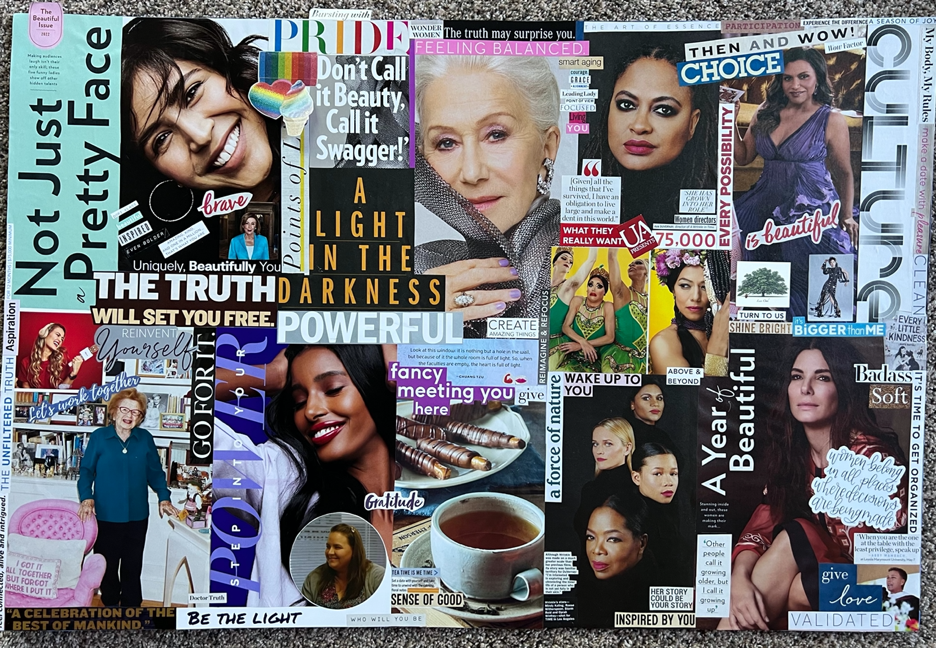 TOUCHING BACK INTO MY CALLING
While this is not a new imperative for me, that experience with my vision board rekindled a spark within and gave me a renewed focus for the months and year ahead. My own work of the last three decades has been to heal my relationship with my inner feminine and inner masculine aspects, and to create sacred and safe space within to integrate and embrace these qualities. I wanted to learn how to let them inform my choices in my outer life. And they have. They still do.
My parenting, my partnering with Michael, my relationships with family, friends, colleagues have all been enriched by this work and by who I have become because of it. It's what I do, explicitly, with my clients.
But to speak more about this, publicly, and about the ascension of the feminine into equal partnership with the masculine in our outer lives (and how one might go about doing that and why that might be important, not only for our own inner peace but for a healthier world)…well, let's just say, I've been a reluctant participant.
Mostly, I've been sitting on the sidelines of what I know is, in part, MY CALLING.
I know in my gut, heart and mind that this is changing. And my vision board reminds me of it multiple times a day.
How this plays out beyond what I'm already doing and how I'm already living my life, loving who I love and working in the world remains to be seen. I hope we can enjoy watching this part of my journey unfold together. As I love bearing witness to your own unfolding and hearing all about it. 
INVITING YOU TO EMBRACE THE GIFTS OF DOWNTIME & REFLECTION
Clearly, this staycation and the downtime it's afforded, have given me an opportunity to reflect more deeply on what matters to me now. Reflection is such a vital practice.
And what about you? What might your journaling or creation of a vision board or a reflective conversation with a life partner or dear friend reveal to you both about what you love about your life and what you might want to pay more attention to in the second half of this year? Consider asking:
What are some of the highlights of the past six+ months?
What do I want to acknowledge and/or celebrate, how and with whom?
What do I want more of and why (and what do I have to offer given this)?
What fills my cup and am I tending to that?
What might that require of me?
Simply listen and pay attention. Resist drawing any conclusions or jumping into doing something too soon. Just notice what you're noticing, allowing your intuition and insights to emerge, empower and inspire you to action. Let these reflections ground you and trust that something good and meaningful will come of them.
YOU ARE MORE THAN JUST A PRETTY FACE
In a letter to a friend, Reiner Maria Rilke, concluded it by saying, "I am glad that in such a raw reality you stand courageous, belonging to yourself. May the year that lies before you strengthen and sustain you."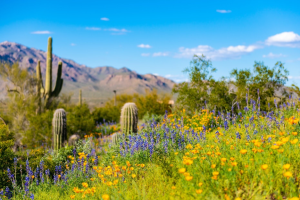 What a powerful blessing.
May you take time to belong to yourself, to wake up to you and the force of nature that you are, to know that you are not just a pretty face…you are grace in action, courage and strength, a human being that matters, just by being you.
Whether you enjoy a staycation, a road trip to visit family or go bungee jumping in Dubai, also know that your time in your backyard, your walk on the land near your home or your pictures of the cloud formations on a beautiful day or before a major storm might be just as thrilling and fulfilling.
Either way, stand courageous and choose powerfully, in ways that allow you to be present, to appreciate this moment and reflect on who you are, what you are, and what sustains you. You are not just a pretty face. You are that and so much more.
Be You.
Love,
Dori
Parting Questions:

What might be revealed to you if you turn toward who or what is right in front of you and give it the gift of your curiosity and attention? What else might you see?
PS. Are you ready to take the next step in awakening and becoming who you truly are? Start your journey here.