Prepare to be expanded!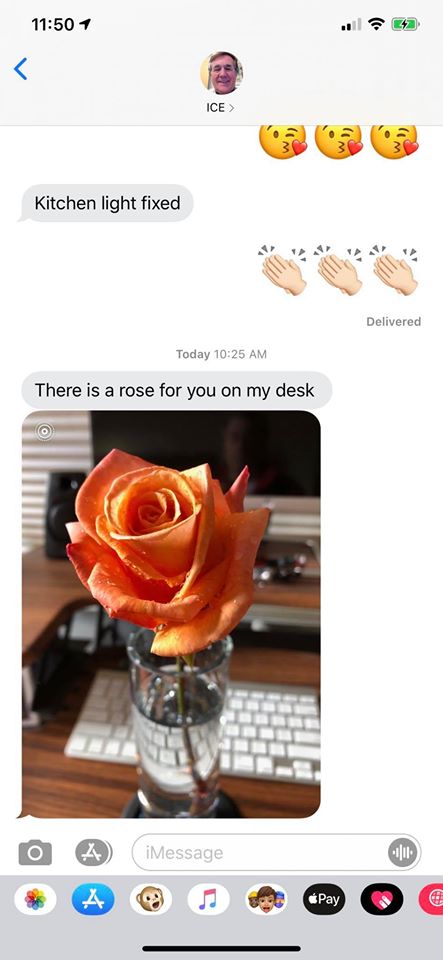 How might you make a positive difference for someone in your life today, right now, or in the next few minutes?!? Read on for a bit of inspiration:
As I hung up the phone around noon today, after a long morning of calls, a message from my husband popped up on my phone (see screen shot below).
You can imagine the smile that spread across my face…in fact, I'm still smiling! Not only because he left me this message and a beautiful rose from our garden, but also because it reminds me that someone special was thinking about me today; that relationships matter more than virtually anything else in my life. I am filled with gratitude for him, for what we've built together and for the people and beauty all around me.
Additionally, by not giving this gift to me directly, he respected my space and my wishes, another form of 'Making Love 24/7.' He delayed his own satisfaction in the giving of it when he honored the fact that I didn't want to be interrupted while working (he knew this because the light at the entrance of our casita was on, an agreement we'd made a while back).
I can't stop smiling or appreciating how big this small act feels.
So this little note is so much more than a love letter and a gift. It represents our values, years of relationship work, listening, respecting, honoring…and so much more…this is how actions aligned with our values and motivated by a desire to connect and scatter joy connect us, expand us and teach us how to give and receive love.
This little act is THAT BIG!
Every time we reach out to one another in small and large ways we are growing hearts and adding to the love available to each of us in the world.
This is another of the many examples of 'Making Love 24/7' I intend to highlight this year as I take a stand for more mature love, elegance and ease, intimacy, grace and meaningful connection in my life and yours, personally and professionally.
These acts of love and connection are especially vital and empowering for those of us looking to reboot our second act or become more whole in our third act. And as we do, we can create solid containers of love, support and wisdom for our selves, our family members, friends, neighbors and co-workers who are struggling to navigate their first act, second or third. It's one of the many upsides of aging!
This is part of the legacy I want to leave for my family and yours, our children and their children…a world where we are as or more focused on what's 'right' with you, me and us than on 'what's wrong', where we problem-solve and create together from a place of strength and curiosity, and where love really is the most important thing and informs every interaction.
I want to help create a new world where we can have respectful and rigorous, fierce and meaningful conversations about the things that matter most to you and me; a world where each of us knows how to show up powerfully and consistently, no matter what life brings.
My rose has thorns. I've never seen thorns as giant and capable of deep wounding as those on the roses, lime and lemon trees we grow here in our gardens in the desert. As in most things, we can't have one without the other, right?
So, in truth, to be in healthy, fulfilling relationships and 'Make Love 24/7' is risky. It won't always 'feel good' or be comfortable. Thank God. I, for one, have bowed to the Gods of Comfort for way too long. Growth is stunted in the comfort zone…and I want to grow. So thorns get to be there too!
The question is, how do we navigate the stuff of life with one another, especially the tough stuff where we don't agree and are not aligned, no matter how much we love and respect each other?
And what might be possible if we all learn how to love better, be the roses and the thorns, be compassionate and firm, tough and tender, curious and provocative?
I believe that if we take a stand for relationships, communication, love and wisdom in the workplace and in the home, we can get great work and great living done, despite and because of our similarities and differences. It all depends on our intention and what we choose to focus on.
This post is an invitation to become more mindful about focusing on love and building healthy, sustainable relationships, beginning with the ones with ourselves.
My request and hope is that you will pause when you see these 'Making Love 24/7' posts coming across your feed, reflect on them, learn something, find some joy in these shares and be inspired to make love 24/7 in your own way to someone in your local orbit, or to yourself!
It could be a simple smile or a public acknowledgement for a job well done (or a private acknowledgement if you know that that would be preferred – knowing that about yourself or someone else is also an act of love, btw).
It can take seconds and costs nothing.
When we bring empathy into contact with action, we show up differently, we bring our humanity back into the room and nurture our relationships.
Whether you're a CEO, a parent or simply greeting a new neighbor while walking your dog, you, too, can spread love and compassion where you are; you can be part of this 'Making Love 24/7' movement.
Join me in this experiment in love making. I dare you to find pleasure in it, whether you are on the giving or receiving end.
Be brave, be courageous and risk being in relationship and expanding someone's heart…it might be your own. How good can you stand it, really?!?
As you do, I would love to hear what you said or did, noticed or felt (emotion or sensation). I invite you to share what happened here.
Let's make 'Making Love 24/7' a real thing and expand our hearts together.